Blackislander FOREST boots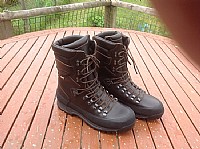 Manufacturer
Categories
Blackislander FOREST All Leather Boots - NEW - New for 2015/2016- Best 2.4 mm thick leather- 10.5 Inches high -Waterproof and Breathable -Lightweight ( only 850 gr size 10) Thinsulate lined for warmth-High Rubber Rand Toe Protection to prevent Scuffing- Vibram Winkler Sole unit- Soft Padded Leather collar- Extremely comfortable- IF unsure of sizing please phone- sometimes a ½ size is better with thick socks-Sizes 7-13 - ONLY 224.95- COMPARE this with other similar boots eg Meindl Dovre !
Price
£224.95
We're taking a little time off. Feel free to browse, but you won't be able to buy anything at the moment.
Testimonials
"
I am into my second season with my Black Islander long boots and they are proving to be by far the best stalking boots I have ever owned.
"
Gary Pusey