Blackislander SCRATCHLESS Boots- NEW@IMPROVED FOR 2013
NOW NO NEED TO CONTINUALLY PRESERVE THE LEATHER UPPERS as on most leather boots allowing them to be used almost continually - only having to air the footbed / internal part of boot AND occasionally treat the stressed areas around the toe area with a leather cream
We hopefully will be adding to this range.
NEW NEW NEW FOR 2012/2013
NEW MANUFACTURER -IMPROVED HIGH @ LOW MODELS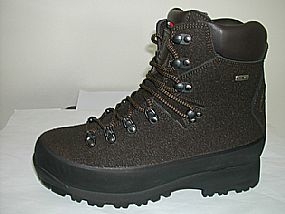 Blackislander 9"Scratchless boot - NEW 9 " Scratchless boot - New Sympatex Waterproof /Breathable liner - New Leather padded collar- New rubber protection surrounding boot above sole Colour Brown Sizes 4 - 14
BLACKISLANDER SCRATCHLESS 9" (24 CMS) LOW LEG BOOT
MUCH IMPROVED BOOT FROM A NEW MANUFACTURER
*LOW MAINTAINANCE BOOT ;*SCRATCHLESS COATING BONDED ONTO LEATHER UPPER;*NEW IMPROVED SYMPATEX WATERPROOF/BREATHABLE LINER;*STIFFENED VIBRAM SOLE UNIT WITH PROTECTIVE RUBBER BANDING SURROUND ABOVE SOLE UNIT- *FOAM REMOVABLE FOOTBED - *PADDED LEATHER COLLAR- *INCL SPARE LACES- Warm Thinsulate Lining -
NEW NEW NEW FOR 2012/2013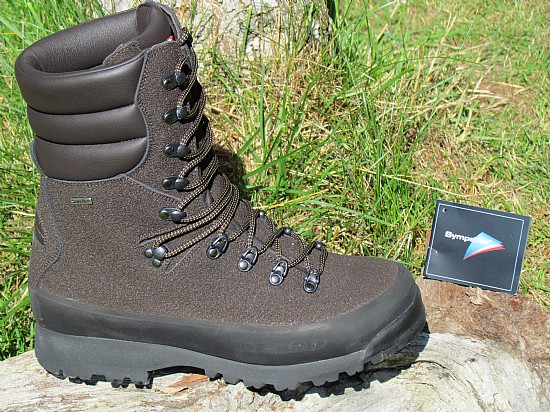 Blackislander 10½ " Scratchless Boot- NEW 10½ Scratchless Boot- New Sympatex Waterproof /Breathable Liner - New Padded Leather Collar - New Rubber Protection surrounding boot above sole- Colour Brown Sizes 4 - 14
BLACKISLANDER SCRATCHLESS 10½"(27/28 cms)HIGH LEG - LOW MAINTAINANCE BOOT-
*Scratchless coating bonded onto Leather Upper -*New Improved SYMPATEX *Waterproof/Breathable Liner-*stiffened Vibram sole unit with protective Rubber surround-*Removable Foam Footbed-*Padded Leather Collar-*Warm Thinsulate Lining -
BLACKISLANDER FOREST BOOTS---NEW -New for 2015/2016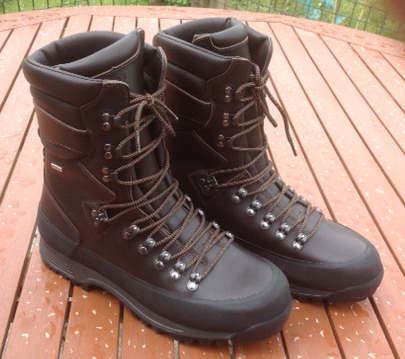 NEW BLACKISLANDER "FOREST" BOOTS- Extra thick 2.4 mm thick leather but still lightweight- 850 gr ( size 8) Extra durable- sympatex waterproof lining- breathable - thinsulate lining for comfort and warmth-vibram sole with high rubber rand- soft padded leathe collar-sizes 7-13 incl half sizes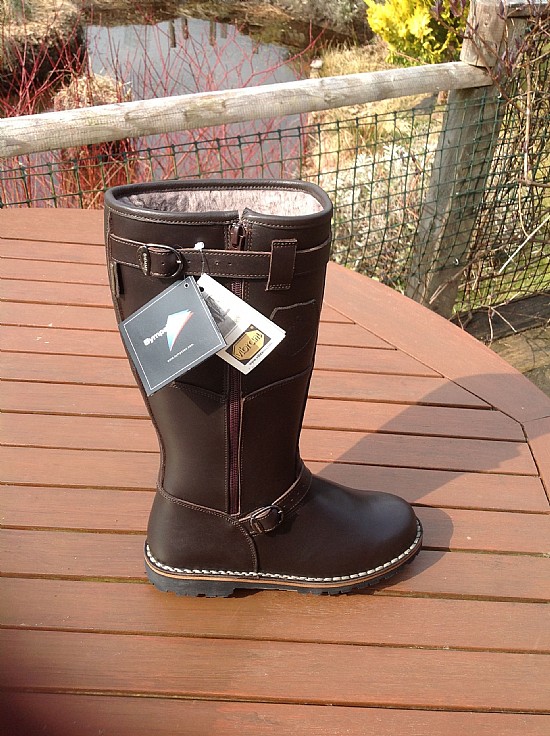 New BLACKISLANDER "SIBERIA" BOOTS- Leather OR Nubuck- Very Warm ( rated to minus 20 degrees) with sheepswool lining- Waterproof SYMPATEX Membrane- Breathable- Good Cleated sole- Stitched Sole unit- Full length zip - Buckled at top and Bottom( more cosmetic than practical!)- Ladies and Gents sizes - Colour Brown - Sizes when available 4-12/13
Blackislander are now producing our New updated SCRATCHLESS High ( 10.5 ") and Scratchless LOW ( 9") boots. These improved boots are now being made with a the reputable SYMPATEX Waterproof/Breathable Membrane / a Protective rubber rand above the VIBRAM sole unit to give more protection plus SOFT leather ankle padding for extra comfort. The boots still retain the Scratchless coating. Since the updating in 2012 customers have been delighted with the improvments and we are delighted to say that comments have been most favourable. We are also pleased to announce that we have now introduced a new BLACKISLANDER CROMARTY LIGHTWEIGHT SUIT made in the same matieral as our renouned Blackislander Delux gaiter ( considered by most to be the best in the UK ). Both Jacket and Overtrousers are WATERPROOF/BREATHABLE and fully taped. NEW traditional ALL LEATHER boots will be introduced to the BLACKISLANDER range soon.
More >>
Testimonials
"
Just a quick email regarding the pair of Ladies Blackislander Boots I purchased from you last week. I wore them yesterday for the first time whilst out grouse beating (with hardly any time breaking them in before), as it were, I had nothing to worry about, they were so comfortable and a perfect fit. Proven with blister free feet today.

I can't thank you enough for taking the time out of your Saturday last week to advise me on the best length of boot etc. I'm extremely happy with my boots, and have no hesitations in recommending yourself to others.
"
Claire Anderson